A multipurpose complex in the Philippines' financial capital
Alphaland Makati Place, located on a premium one-hectare property along Ayala Avenue, is a uniquely intelligent residential, hotel, office, and leisure complex, with every detail planned for efficiency, sustainability, and enjoyment. It is advanced in concept and execution. Wong & Ouyang, the renowned architectural firm that designed Alphaland Makati Place, also had a hand in designing Hong Kong's Pacific Place.
The result is an integrated urban lifestyle solution, with office, residential, hotel, sports and leisure, and retail necessities all in one complex. There is nothing comparable to this in the Central Business District, and no other development presents such a comprehensive living solution. This complete community cuts down on commuting, saves time and energy for its tenants and residents, and minimizes traffic, all in secure, private surroundings.
Alphaland Makati Place is designed from the ground up as an intelligent development, with state-of-the-art building management and security, as well as energy-efficient mechanical, electrical, and sanitary systems. The complex consumes far less water and energy than comparable buildings, minimizing carbon emissions and unnecessary costs, while still achieving a high level of comfort. The project is registered under the United States Green Building Council (USGBC) rating system, which administers the Leadership in Energy and Environmental Design (LEED). Makati Place is designed to a Gold level of certification.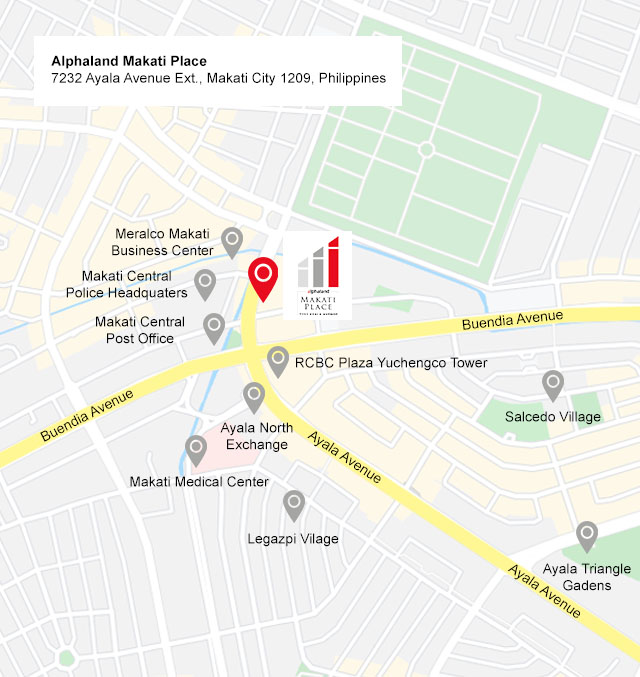 Alphaland Makati Place Inquiry
© 2022 Alphaland Corporation All Rights Reserved