Alphaland Baguio Mountain Lodges
A master-planned development of 350 lodge-style and A-frame log homes
The Alphaland Baguio Mountain Lodges is a master-planned development of 350 lodge-style log homes, situated on a 100-hectare property. At an elevation of 5,300 feet, the development is just 9 kilometers north of Baguio City on Ambuklao Road, which is now fully paved, and is only a 15-minute drive from Baguio City proper.
It enjoys lush Benguet pine forest and totally pollution-free mountain air. The homes will be sold completely equipped and furnished to the usual Alphaland standard, in ready-to-move-in condition with stove, appliances, fireplaces, furniture, decorative furnishings, luxury bed + bath linens, a Japanese hot tub, and a sauna. In addition to the 6-bedroom lodges, we now offer 3-bedroom units, 4 each in a quadruplex lodge, and 4-bedroom A-frame lodges. They will also be fully furnished. The entire property will be secured by an eight-foot concrete perimeter fence.
The master plan was completed by EcoPlan of Florida in the U.S., the same master planner for Balesin Island. The lodges will be sold individually as horizontal condominiums, where the land will be proportionately owned by all 350 homeowners. This will allow for the optimization of the locations and views of all of the home sites.
Each cluster consists of five to eight homes, and has its own water cistern that collects rainwater from the roof of each building. In addition, each home will have a complete genset that will serve as a backup source of power. Landscaping will be provided and maintained by Alphaland, to the usual superior Alphaland standard.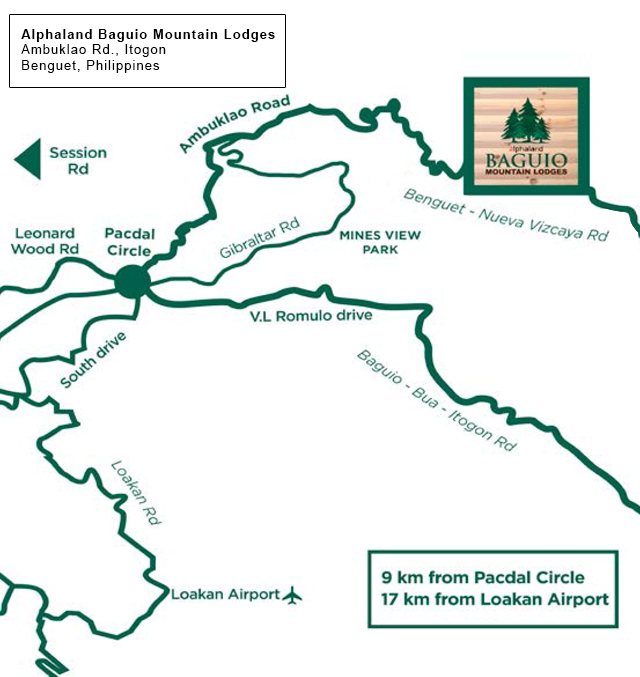 Alphaland Baguio Mountain Lodges Inquiry
© 2022 Alphaland Corporation All Rights Reserved